---
---
Mosotho Letsela shows
---

Mosotho Let'sela Hails from Ha Manteko in Qacha's Nek district (Lesotho), Lets'ela is the embodiment of dynamism with a cunning ability to fuse traditional Sesotho sounds with mainstream genre's such as Trap and Hip and Hip. This conscious rapper calls himself a hybrid as he is able to deliver "bars" in Sesotho, English and an Nguni based mixture of isiZulu and IsiXhosa. Having grown up in Matatiele his sound is influenced by Sesotho Famo artists such as Mants'a, Rantso and Sanko as well as rappers Stogie T, Eminem and Tuks Senganga.
The Prince of Mudita Music is a direct descended of Ha Sehapa Chief Ranatlaila and a Mining Engineer by profession. He was conscientized while working deep underground in South Africa's gold mines and is a self-confessed Pan Africanist.
Mosotho lets'ela releases include Pelo e aka featuring Kommanda Obbs and Mathabo, Point of Order, Ubuntu Featuring Maskandi genius Mbuzeni Mkhize, Koetsa featuring lyricist Pdoto and his latest single with Mr Mo, DJ Soniq T and Jon Q called Motjo.
Mosotho plans to release his debut album dedicated to his grandfather in 2021 called "Namane ea Maleke".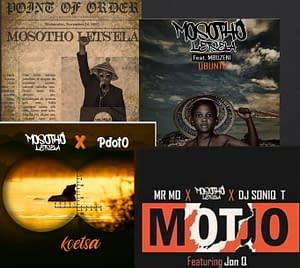 ---